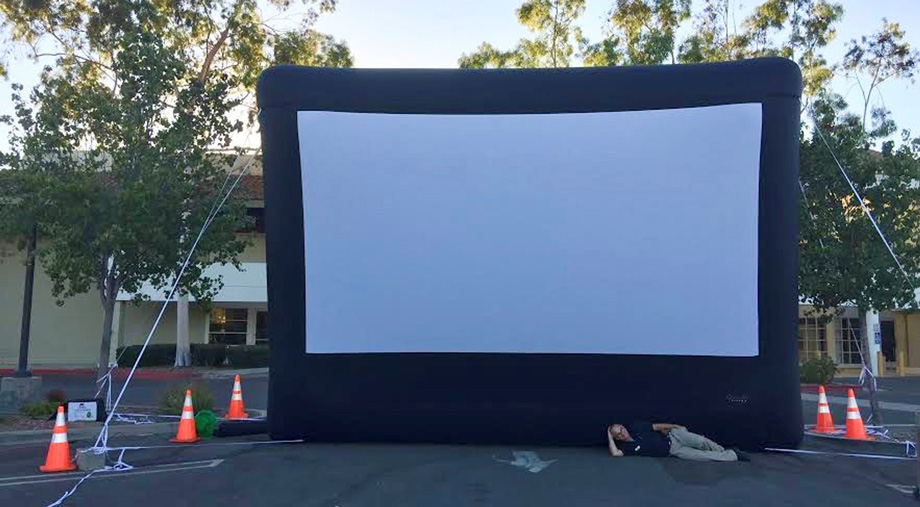 Library staff member Chris Coleman relaxes in front of the enormous new screen.
The Friends of the Thousand Oaks Library have funded an outdoor theater system, featuring an inflatable 20-foot screen, for use at both libraries. The equipment arrived in time for the Newbury Park Library's 25th anniversary celebration, screening Disney's "Wild Hearts Can't Be Broken" on a warm, late-summer night. Families watched from blankets and from their cars, bringing back happy memories of the drive-in theaters of yesteryear. The system was also used to show "The Book of Life" at the Día de Los Muertos celebration in October.
The screen is so large that it can be seen from the street, attracting passersby to come and join the fun! The library is looking forward to many more movie nights and family fun under the stars—just another way the Friends help the library serve the community. Keep an eye out for more movie nights, coming soon to a library parking lot near you!
About Friends of the Thousand Oaks Library
The Friends of the Thousand Oaks Library is a California-based group of avid library advocates dedicated to enhancing the Thousand Oaks Library with support services and intellectual and cultural programs that enrich the lives of area residents of all ages.  Learn more at www.ftol.org.
Contact
Kathy Leslie, Publicity Coordinator
Email: publicity@ftol.org