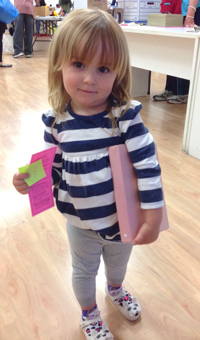 Our Spring Used Book Sale was a huge success, with hundreds of happy customers attending and leaving with armloads of bargain books. Readers of all ages left with rare books, books by favorite authors, cookbooks, craft books, manga, CDs, DVDs, puzzles, stuffed animals and more! One special little customer was looking for a pink book, and we were happy to oblige.
Our book sales raise the funds the library needs for its materials, technology, and programming, and none of it would be possible without the volunteers who give of their time and enthusiasm to make this a successful event. A complete list of volunteers, along with our profuse thanks, appears below, and as you can see from this list, we need every volunteer for our big sales. If you've ever considered volunteering, either for our twice-a-year sales or for weekly tasks, we want you! Contact Judi Bumstead at jbumstead@tolibrary.org, and ask about volunteering with the Friends!
Your donated books, and your purchases at our semi-annual and Daily Used Book sales at both libraries, help the Friends help keep our library the thriving intellectual and community center of the Conejo Valley. Thanks for supporting the Friends' endeavors!
Thanks to the following for their hard work and dedication at this year's sale:
Ada Nelson
Alice Knipe
Alyssa Milne
Audrey Helix
Beth Milligan
Bettie Rae Hall
Bob Coffey
Bruce Wetzel
Carol Eltiste
Carol Weiner
Carol Weiss
Carrol Lucas
Caryl Piernot
Chuck Herrea
Corine Bell
Dan Ruth
Del Wolken
Dick Piernot
Don Bullard
Donna Coffey
Donna Salas
Dotty Sandford
Ellen Jackson
Emery Spencer
Fabienne Logan
Francie Logan
Francie Pavon
Geri Conlon
Geri Trail
Ian Leslie
Imelda Infante-Lumban
Janet Doman
Janet Koenig
Janet Yamanaka
Jeff Greenberg
Jessie Fowler
Joane Stone
Joe Bullock
John Reid
Judi Bumstead
Karan Kyzer
Kathy Leslie
Larry Knight
Linda Shapiro
Max Honigsberg
Mel Weiner
Michael Gollub
Michelle Colvin
Mindy Wright
Navy Honigsberg
Nic Bell
Olga Bernstein
Peg Landon
Peggy Rothring
Randy Yamanaka
Reben Salas
Rick Kno
Rod Lang
Ruth Dods
Sandra Lauseng
Sarah Pawn
Sherry Stukes
Shirley Kafka
Steve Kafka
Sue Bosworth
Sue Driver
Sue Poulson
Sue Rosecrans
Susan Bullard
Susan Eastman
Syd Wolken
Tracy Milligan
Veda Homa
Vickie Geiger
Vickie Hung
About Friends of the Thousand Oaks Library
The Friends of the Thousand Oaks Library is a California-based group of avid library advocates dedicated to enhancing the Thousand Oaks Library with support services and intellectual and cultural programs that enrich the lives of area residents of all ages.  Learn more at www.ftol.org.
Contact
Kathy Leslie, Publicity Coordinator
Email: publicity@ftol.org