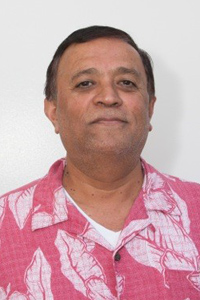 We recently sat down for a conversation with Sai Chandavarkar, leader and facilitator of the Friendly Book Discussion group, sponsored by the Friends of the Thousand Oaks Library. Sai joined the group in the early 1990's, looking for people to talk to, and took over as group facilitator in 2002. His hope for the group, Sai said, is to encourage a conversation among people who seek to be "culturally and politically alive."
Sai says he thinks the group has tapped into a widespread desire for honest and thoughtful exchange of ideas; the conversations often grow lively, but are never heated. The titles the group have chosen for 2017 range from The Gene: An Intimate History, by Pulitzer Prize winner Siddhartha Mukherjee to When China Rules the World, by Martin Jacques. Sai says, "We look for books that have edges which touch everybody's lives."
Titles which have resonated strongly with the group in the past include Elizabeth Warren's A Fighting Chance and Being Mortal, by Atul Gawande. The Gawande title in particular, which deals with aging and end of life decisions, led to an especially stimulating discussion. Sai says there is also strong interest in spiritual titles such as Wise Heart: A Guide to the Universal Principles of Buddhist Psychology. "I feel there is an unfulfilled spiritual hunger in the community," Sai says, "which longs to think about questions in a different way than perhaps their own religious teachings." August's selection of Coming to Our Senses: Healing Ourselves Through Mindfulness, by Jon Kabat-Zinn is another such title; as Sai says, "Mindfulness goes against an overcrowded life and slows you down to truly live."
The Friendly Discussion Book group winds up each year with a guest speaker, often a professor from the local community. New members are very welcome; the group meets the first Thursday of every month from 6:30-8pm at the Grant Brimhall Library. For more information, contact Sai at 805-241-5205, or via e-mail at: chitransai@gmail.com; for a list of the group's 2017 titles, please see http://www.tolibrary.org/home/showdocument?id=7035.
About Friends of the Thousand Oaks Library
The Friends of the Thousand Oaks Library is a California-based group of avid library advocates dedicated to enhancing the Thousand Oaks Library with support services and intellectual and cultural programs that enrich the lives of area residents of all ages.  Learn more at www.ftol.org.
Contact
Kathy Leslie, Publicity Coordinator
Email: publicity@ftol.org