The library's aquarium has a special new resident! Hoover, a Purple Tang, has been donated to the aquarium in memory of one of the Friends of the Thousand Oaks Library's most committed and beloved volunteers: Jim Neilson.
Jim was a devoted volunteer both at the Friends of the Thousand Oaks Library and the Ronald Reagan Library, where he was a docent and a presenter for many years. Jim is sorely missed for his warm, expansive personality, his lively interest in life, and his dedication to the causes he served as a volunteer. As our book sorter Eileen Kessler puts it, "He was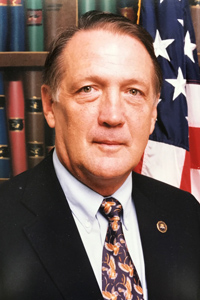 well-loved by everyone he came in contact with; the place lit up when he walked in."
Jim is often described by those who knew him as a Renaissance man. He entered the FBI as a special agent in 1970, and spent the majority of his career at the LA Field Office. He truly loved being an FBI agent, but when he retired in 1999, he put that same dedication, zest for life and service directly into his volunteer work and hobbies. He was a hardworking docent at the Reagan Library, logging over 5500 hours over his volunteer career. In his spare time he played the piano and the accordion, worked with stained glass and woodworking, and was a busy, dedicated Friend of the Library, both as a Board member and as a volunteer.
Bettie Rae Fowler remembers sorting books with Jim, saying "Jim was the greatest storyteller ever. He provided great entertainment while we were working—we never paid attention to the time, because he was so funny and kept us all so entertained." Jim utilized his storytelling flair in his presentations on presidents and their First Ladies—turning hours and hours of research into productions which were popular throughout the Conejo Valley.
Ruth Dowd, Secretary of the Friends of the Thousand Oaks Library, remembers coming up with the idea of acquiring the fish in Jim's honor; Ruth, along with other members of the library and the Friends, raised the funds to make the purchase of the memorial fish possible.
Like the man he honors, Hoover is a special fish—Purple Tangs are one of the most prized specimens of all saltwater fish for their deep blue color combined with bright yellow tails. Our Purple Tang has been growing like crazy since his arrival; his aquarium keeper describes him as happy, active, and "really wide." Presumably that's a compliment in the fish world!
Wondering why our new fish is not named Jim? Jim was a career FBI man, who served his country and who continued his tradition of service in retirement. We think he'd like knowing that the new Purple Tang bears the name of the FBI's most famous members.
Come by and see if you can see Hoover peeking out at you! He's got his namesake's twinkle!
About Friends of the Thousand Oaks Library
The Friends of the Thousand Oaks Library is a California-based group of avid library advocates dedicated to enhancing the Thousand Oaks Library with support services and intellectual and cultural programs that enrich the lives of area residents of all ages.  Learn more at www.ftol.org.
Contact
Kathy Leslie, Publicity Coordinator
Email: publicity@ftol.org