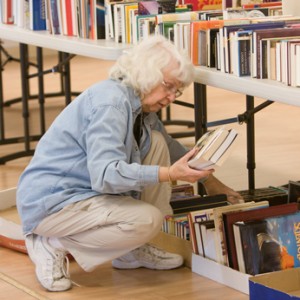 Volunteers are the backbone of our organization. Their generous donations of time, expertise and experience make possible the Friends' many endeavors, as well as allow the organization to minimize its overhead expenses and thereby maximize its gifts to the Thousand Oaks Library. The Friends of the Thousand Oaks Library has a board of 6 elected officers and more than 20 supporting committee members, all of whom volunteer their services. Periodic large-scale used book sales often incorporate the efforts of 75 or more volunteers in the preparation for, and execution of, that two-day event! You can help us. The donation of a few hours of your time periodically or on a semi-regular basis would make a big task for a few individuals a small one for a team of our special volunteers. The rewards to our volunteers are numerous, including the gift of friendship of wonderful fellow team members and the satisfaction of knowing that your efforts really can make a difference. Some facets of the organization that might hold particular appeal for you and/or best utilize your time and talents are:
Book discussion groups
Special programs – planning, execution, clean-up
Cultural tours
Graphics/design
Book sales
Fundraising projects, brainstorming
Membership committee
Board members (elected by members of the organization at the Annual Meeting in June)
Thousand Oaks Library volunteer
Book sorting
Newsletter
Hospitality
Publicity
Online sales
Interested? We'd welcome hearing from you! Please check the appropriate box on our membership form and/or e-mail us at volunteer@ftol.org.